From the one track mind of Mike Burns
About Me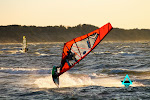 Nags Head, NC, United States
Windsurfing has ruled more than 1/2 my life. There isn't a day that goes by that I don't think about how it feels to fly across the water, fly through the air, or spin around in circles on my windsurf gear. So to help spread the stoke (and further give in to my addiction) I started this blog. I hope you find it entertaining and a place to go for some useful information.
View my complete profile
Tuesday, May 1, 2012
OBX Challenge 2012
Any trip to Cape Hatteras, North Carolina is always a good one. When you get a bunch of pro freestylers together, it gets even better. Thanks to Makani Fins and Ocean Air Sports for getting this together. The event was April 19th to the 21st and the video focuses on the Makani Team Riders Mike Burns, Jon Sassone, and Tyson Poor.
Posted by

Mike Burns
at 10:46 AM