From the one track mind of Mike Burns
About Me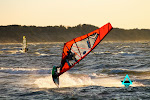 Nags Head, NC, United States
Windsurfing has ruled more than 1/2 my life. There isn't a day that goes by that I don't think about how it feels to fly across the water, fly through the air, or spin around in circles on my windsurf gear. So to help spread the stoke (and further give in to my addiction) I started this blog. I hope you find it entertaining and a place to go for some useful information.
View my complete profile
Sunday, August 30, 2009
It was Friday night before the storm and there was tons of chatter on where we would all sail on Saturday. E-mails, phone calls, posts to the groups. Would it be demo for epic side-off wave sailing, Napeague for the strongest wind, or somewhere else. Oh the dreams I had that night of the epic session to follow in the morning. Much to everyone's disgust, we awoke from our happy dream world to the no wind hell of August. Where was the storm?!!! Where was the 40 knots of wind forecast out east?!!! The realization of the lack of wind finally set in, and I headed off to my studio to finish up editing some wedding videos. Around 1:00 Rob called and said "are you watching the meters?" I told him I gave up about an hour ago. There was no wind and it was only supposed to get worse. "Well, it's gusting to 29 at Cedar!" I think I made it to the beach before Rob managed to hang up the phone. I pulled into the parking lot and thought to myself that these 4.7 conditions presented to only Rob and myself were surely a gift from the wind gods. I rigged the 4.7, Rob his 5.0, and chose my 85 ltr. It turned out to be a great session that lasted for about 2 hours. Somewhere in the middle I switched to my beloved 99 ltr Mistral Joker and I was sliding, spinning and looping up a storm. Then it started dying. I managed to get a few more runs on the 5.3 before it totally crapped out. Tons of fun though.
Posted by

Mike Burns
at 10:04 AM
2 comments: