From the one track mind of Mike Burns
About Me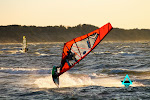 Nags Head, NC, United States
Windsurfing has ruled more than 1/2 my life. There isn't a day that goes by that I don't think about how it feels to fly across the water, fly through the air, or spin around in circles on my windsurf gear. So to help spread the stoke (and further give in to my addiction) I started this blog. I hope you find it entertaining and a place to go for some useful information.
View my complete profile
Thursday, March 8, 2012
What a day! Temps were touching 70 degrees inland and pushing upper 50s at the shore. Today was the first day of the year that I was ok in my wetsuit without gloves or hood. AND WINDY!!! Spring is definitely here. I made it a full day event. The call was to go to Heckscher, and there was a great turnout considering it was a weekday in March. There were about a dozen of us at the beach. I got on the water a little before 10am on the 5.0. It was perfect. Soon enough it was time to switch down to the 4.5, then after about an hour of flipping, sliding and spinning the 4.5 and 89 ltr, the wind really kicked in. From then on it was full power 3.7!! The perfect day!
What the windgraph for a perfect day looks like:
Posted by

Mike Burns
at 6:20 PM
1 comment:


Tuesday, March 6, 2012
Well, it's just about that time of year when the cold days are passing on for armer weather. The days are growing longer and the winter gloves, boots and headgear goes away until next year. Nows the time to start dusting off your old trusty stick and make sure all those downhaul lines are still downhaul lines. Get ready because Spring is here!!!
Lets not get ahead of ourselves though. This winter wasn't all that bad and some might say that it never arrived at all. I had 10 days in January on Long Island and that even beats out the # of days I sailed in Bonaire while we were there in Feb. In fact I had many more sessions in January that I made progression on than the entire rest of the year put together. How's that for winter sailing? But now it's March and the temps are climbing, the wind is starting up and even mistake won't mean crashing into a full on brain freeze! The next 2 days promise wind into the mid 20 and temps around 60 degrees. So I'm hoping to keep this incredible winter rolling right into spring.
Spring means it's also just about time for Cape Hatteras. This will be our 15th spring trip to the cape. We've never been skunked on a spring trip to Hatteras. (well, there was that one year where it blew in excess of 45 knots straight through the week that we were there) One thing I am looking forward to besides the warm weather, warm water and strong winds is the addition of a windsurfing event right in Avon! Makani Fins, and Ocean Air Sports are joining forces to bring the first real freestyle/racing event to the island in years. The event is all about fun and you've attended any of the East Coast Windsurfing Festivals here on Long Island, you'll know exactly what I mean. There will be a Freestyle jam with some of the nations top freestyle talents including Tyson Poor, Wyat Miller, Jon Sassone, Chris Eldridge and of course yours truly. The dates are April 19th, 20th and 21st and definitely worth checking out.
For more info and tentative schedule the event go:
http://blog.makanifins.com/
On a side note, it's not easy running a business and planning for an event at the same time (trust me, I know first hand), so I would like to send out a big thank you to Makani and Ocean Air for putting this together not only for the joy I'll have while I'm there but for helping spread the windsurfing love. It's the grass roots events like this and the
East Coast Windsurfing Festival
that are keeping windsurfing strong.
So I've got a lot to look forward to this spring and you should too. So grab that board out of the garage, put the sails in your car and lets go sail!!!!
See you at the beach,
Mike
Posted by

Mike Burns
at 7:23 AM
No comments: