From the one track mind of Mike Burns
About Me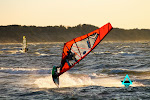 Nags Head, NC, United States
Windsurfing has ruled more than 1/2 my life. There isn't a day that goes by that I don't think about how it feels to fly across the water, fly through the air, or spin around in circles on my windsurf gear. So to help spread the stoke (and further give in to my addiction) I started this blog. I hope you find it entertaining and a place to go for some useful information.
View my complete profile
Tuesday, March 30, 2010
A day with a new addiction
The forecast was for yet another strong NE day. The Training Grounds would again be the call. This place is getting to be not only my favorite place on LI, but maybe my favorite place to sail anywhere. What made it better today was that I had a sweet, sweet new 2010, 98 ltr. F2 Rodeo Air with me, and it wasn't even mine. You have to ask yourself how many of the guys you sail with would not only let you borrow their brand spanking new board for a few runs, but how many of them would let you take it for a 2 week trip to Hatteras with you. Well my buddy Kurt is that generous. Some might say that I'm even more greedy than he is generous to take the offer. But you haven't sailed the Rodeo. I tried it a couple weeks ago only for a short time, and this thing is like crack and I was definitely a junkie looking to get another score. If you're reading this, KURT, YOU"RE THE MAN!!!! The board is just a gift from god. I was sailing with 2 other guys on 4.2s most of the day. Towards the end the wind started dying off, and that's where this board really began to shine above the others. Not only was I the only one planing, I still had plenty of speed and power to do some shakas, ponches and funnels. The F2 Rodeo only needs the slightest puff to get up and going and when it does, it's instantly up to speed for anything you want to throw. I was hitting moves bigger and faster than I ever have before and it's due to this amazing board. I would recommend this to any freestyle pro as much as I would recommend it to anyone just making their first vulcan attempts. Now who's got some wind so I can get another hit of Rodeo?!
Posted by

Mike Burns
at 6:58 PM